Labor Day Flea Market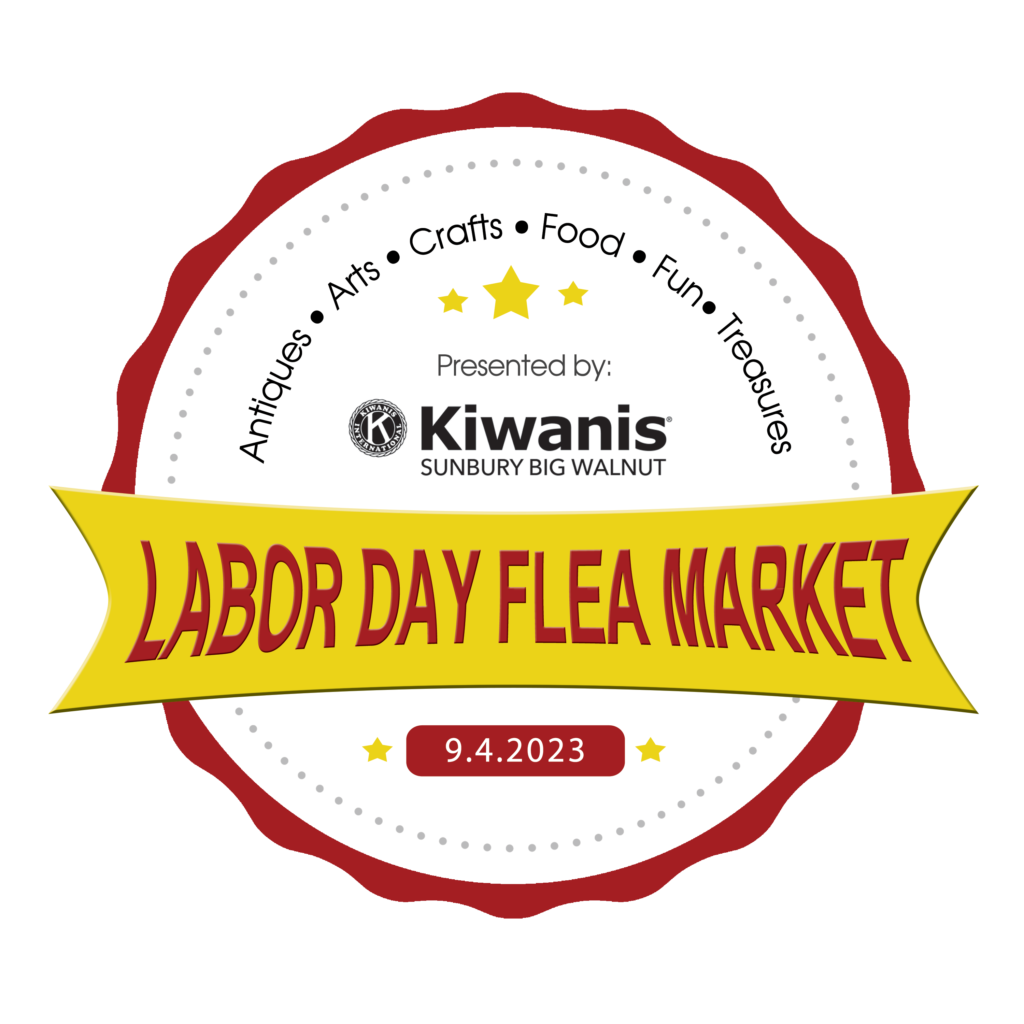 ***RESERVATIONS FOR THE 2023 LABOR DAY FLEA MARKET WILL OPEN IN THE SPRING OF 2023***
---
We are happy to announce the Labor Day Flea Market for 2023 will be held Monday September 4, 2023 from 8a-4p. Bring the family out for a day of treasure hunting, food and fun on the historic Sunbury Village Square.
---
Thank you for your interest in being a vendor at the 2023 Sunbury Labor Day Flea Market.
Your reservation and payment constitute your agreement to the following rules and regulations:
1.) Vendor agrees to pay the following: Inside lawn (approx. 15'x20′) are $30 each OR (10'X10′) are $20; On-street or grass food vendor (no truck, approx. 10'x15′) are $75; On-street food vendor (food truck/trailer, approx. 15'x25′ are $125. All inside lawn spaces will be inside the sidewalk perimeter to remain ADA compliant. Spaces will be marked with space number and outline of the area.
2.) Trees, lamp posts and other obstructions may be included within the space and cannot be removed. Be sure to note in the reservation form of any special space needs necessary to accommodate a tent/canopy or vehicle. No tables, chairs or tents are supplied.
3.) Reservation of spaces is on a first-come, first-serve basis and will be guaranteed once the reservation form and payment have both been received. Specific spaces on the Square will only be guaranteed if you provide your top choices on the reservation form and the space can be assigned in advance of the event. You will be notified of advance assignments if possible. For spaces that are not assigned in advance, they will be issued by the event operator at the time of your arrival to set up.
4.) Vendor parking on the lawn spaces will begin at 5:30AM on Labor Day. Entrance to the NORTH SIDE of the Square is on Cherry Street via the wide sidewalk entry at the center of the Square. Entrance to the SOUTH SIDE of the Square is via the sidewalk entry at the southeast corner of the Square (Vernon and Granville Streets). Volunteers will check you in and assist you with parking. Prepaid reservations will be held until 6:15AM at which time no-show spaces will be released to vendors on the waiting list. Please unload and remove your vehicle from the Square as quickly as possible, but no later than 6:50AM. Driving back onto the Square will not be permitted before 4:00PM unless directed by the event operator. Late arrivals (after 6:15AM) and early departures (before 4:00PM) will need to carry their display and inventory items on and off the Square.
5.) Sunbury Square is owned and maintained by the City of Sunbury. Parking on the grass is at the event operator's discretion and based upon weather and underground utility conditions.
6.) Electricity and water hookups are not guaranteed for any vendor, please plan accordingly.
7.) The sale of tobacco, alcohol, firearms, live ammunition, live animals, pornographic materials, any game of chance, items that may be deemed offensive/hateful/racist/vulgar/profane, or hazardous chemicals or materials are Strictly Prohibited.
8.) Vendors are responsible for the removal of all trash, which may be deposited at the onsite dumpster provided. Absolutely no materials are to be left on the premises.
9.) Cancellations of prepaid reservations will be accepted up through 11:59pm on Sunday, August 27, 2023 and will be issued a full refund. This event occurs rain or shine, and refunds are not issued for inclement weather. In the event of a government declared action that would cancel the event up to and including the day of, a full refund will be issued.
Reservations are not confirmed until payment is made. Thank you, and we look forward to having you join the 202 Sunbury Labor Day Flea Market!